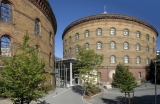 Panometer Leipzig
Panometer-Panoramabild
Panometer-Panoramabild
The Leipzig Panometer
Allow yourself an extraordinary weekend and visit the Panometer in Leipzig.
The worlds largest panoramic image created by illusion artist Yadegar Asisi showing WONDERWORLD CORAL REEF
Do not miss out our three-course dinner in the evening.

Gerne arrangieren, bzw. empfehlen wir Ihnen:
Eintrittskarten für Museen und Ausstellungen u.v.m
einen Besuch im Leipziger Zoo
Leistung
5 Kurzurlaubstage
4 Übernachtungen
+ reichhaltiges Frühstücksbüffet
+ Gose-Brotzeit mit Gose-Bier und Käse
+ Abendessen in der urigen Altstadtkneipe No. 2
+ Besuch eines Leipziger Kabaretts
+ Tageszeitungen und Zeitschriften;
+ Kostenloser Hotelparkplatz direkt am Hotel;
+ Veranstaltungspläne, Karten- und Informationsmaterial über Delitzsch, Leipzig und die Region;
Bemerkung
Als Gutschein erhältlich.
Bestellte Kabarettkarten können nicht zurückgegeben werden.
Verlängerungsnacht Doppelzimmer € 24,00 je Person (Standardzimmer)
Verlängerungsnacht Doppelzimmer € 29,00 je Person (Komfortzimmer)
Für Verlängerungsnächte bitten wir Sie, die Verfügbarkeit telefonisch zu erfragen.
Pauschale je Kind im Zustellbett: € 60,00.
Preise pro Person
Doppelzimmer Komfort
168,00 EUR
Hier geht es zur Online-Buchung