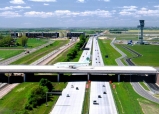 Flughafen-Rollbrücke Airport Landing over bridge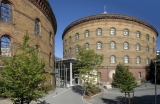 Panometer
Airport Leipzig-Halle
- with interesting airport tours -
You do not necessarily fly into the distance, if you want to get to know the Airport Leipzig-Halle. Take part in one of the interesting airport tours.

We invite our guests to get to know the Leipzig region and to visit the Airport Leipzig-Halle. During various guided tours, the airport is presented with the architecturally successful central terminal, which uniquely links all modes of transport: rail, road and air under one roof.
>> Airport - Tour Selection <<
Here you can choose the interesting airport tour for you and book it directly, or we can assist you with tour selection and scheduling. The safety criteria of the airport must be observed.
You will visit the Panometer with its more than 3,000 m² panorama picture of the artist and architect Asisi. The history of the GDR is shown in the Museum "Round Corner" and in the Contemporary History Forum.
During your stay in our house you will get more information about the many attractions in the region.
You will experience interesting and entertaining hours.
Gerne arrangieren, bzw. empfehlen wir Ihnen:
Besuch Zeitgeschichtliches Forum Leipzig (Geschichte der friedlichen Revolution)
Besuch Museum "Runde Ecke" (Informationen über die Geschichte des MfS)
Besuch eines Leipziger Kabaretts oder Konzerts
Besuch Zoo Leipzig
Besuch des Grassi Museum
Abendessen mit Whisky-Verkostung in der No.2
Leistung
3 Kurzurlaubstage
2 Übernachtungen
+ reichhaltiges Frühstücksbüfett
+ Eintrittskarten für das Panometer
+ Tageszeitungen und Zeitschriften
+ Kostenloser Hotelparkplatz direkt am Hotel
+ Veranstaltungspläne, Karten- und Informationsmaterial über Delitzsch, Leipzig und die Region;
Bemerkungen
Gerne dürfen Sie bei uns Ihren Aufenthalt verlängern.
Preise pro Person
Douple Room
xx,00 EUR
Hier geht es zur Online-Buchung