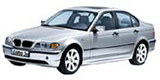 Factory Tour at BMW
Do you want to take your desired vehicle with you?
Enjoy a pleasant overnight stay, enjoy a 3-course meal and take part in a factory tour in the new BMW plant in Leipzig. In about 2 1/2 hours you will be guided through the body shop, the paint shop and through the assembly. A unique experience.
Timely bookings or registrations are required directly at BMW. BMW - the brand.
We are happy to arrange, or recommend:

3-Gang-Candle-Light-Dinner in a greek restaurant
Cabaret or concert tickets
Tickets for a visit to Leipzig Zoo
Tickets for museums and exhibitions
Leistungen
2 Kurzurlaubstage
1 Übernachtungen
+ reichhaltiges Frühstücksbüffet
+ 1 Flasche Rotkäppchensekt;
+ Süße Naschereien;
+ Tageszeitungen und Zeitschriften;
+ Kostenloser Hotelparkplatz direkt am Hotel;
+ Veranstaltungspläne, Karten- und Informationsmaterial über Delitzsch, Leipzig und die Region;
Bemerkung
Gerne dürfen Sie bei uns verlängern.
Preise pro Person
Doppelzimmer Komfort
36,00 EUR
Hier geht es zur Online-Buchung