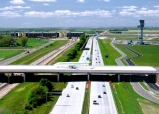 Flughafen-Rollbrücke Airport Landing over bridge
Panometer
Airport Leipzig-Halle
- with interesting airport tours -
You do not necessarily fly into the distance, if you want to get to know the Airport Leipzig-Halle. Take part in one of the interesting airport tours.

We invite our guests to get to know the Leipzig region and to visit the Airport Leipzig-Halle. During various guided tours, the airport is presented with the architecturally successful central terminal, which uniquely links all modes of transport: rail, road and air under one roof.
>> Airport - Tour Selection <<
Here you can choose the interesting airport tour for you and book it directly, or we can assist you with tour selection and scheduling. The safety criteria of the airport must be observed.
You will visit the Panometer with its more than 3,000 m² panorama picture of the artist and architect Asisi. The history of the GDR is shown in the Museum "Round Corner" and in the Contemporary History Forum.
During your stay in our house you will get more information about the many attractions in the region.
You will experience interesting and entertaining hours.
Services:
2 Getaway days
1 Nights
+ Extensive breakfast buffet
+ 1 Bottle of "Rotkäppchensekt" champagne
+ Sweet treats
+ Daily newspapers and magazines
+ Free parking in front of the hotel - if available
+ Event schedules, maps and information about Delitzsch, Leipzig and the region
Note:
You are welcome to extend your stay.
Prices per person
Double Room
39,50 EUR