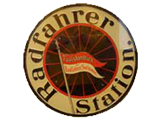 Biker station
(from Pauli's manual of cyclists of Saxony, seen in the Transport Museum in Dresden).
These signs were already attached to restaurants, who entertained thirsty cyclists, at the time of the empire. You can see this sign in the Transport Museum in Dresden.
And so both thirsty cyclists and motorcyclists are wined and dined with us.
Bed + Bike - for Cyclists and Motorcyclists
Our hotel has adapted to cyclists and motorcyclists and we look forward to welcoming you as our guests. From our hotel you can use the newly created lakes of the Leipzig New Lake District, Leipzig and explore the region around the Düben Heath.
There are numerous possibilities.
In our hotel you can expect:
Comfortable rooms
Bike rental (also a tandem available)
Locked garage
Maintenance facilities,
Standard tool maintenance area,
Lockable drying room for wet clothing
Luggage Storage
Maps
Offers for guided tours
Packed lunch
Cyclists - Information
Detailed information for cyclists available here
more informations
Motorcyclists - Information
For more information on our highlight for motorcyclists
more informations